Full and Partial Dentures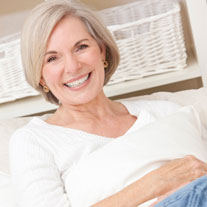 There are many ways to replace missing teeth. If you are missing 2-3 teeth, we often can replace them using an implant or a bridge. However, there are times where we need to replace multiple teeth there are many options.
Below are some descriptions of the many different tooth replacement options. Don't worry Drs. Razdolsky and Tincher will help you decide which tooth replacement option is best for you.
Full Denture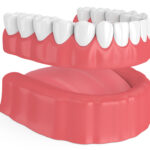 Full dentures are a set of custom-made removable replacement for missing teeth. Dentures are made of acrylic (gum colored plastic) which rests on the gums with plastic teeth adhered onto the acrylic. Dentures are fit snugly and comfortably to act as real teeth.  We aim to make your dentures as life-like as possible, and they certainly have come a long way from the past. Start to finish, it takes about five appointments to fit a new denture. It is recommended to take your dentures out at night when sleeping.
Removable Partial Denture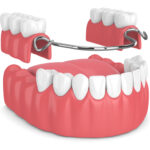 Removable partial dentures are a set of replacement teeth adhered to pink or gum colored acrylic. Often a partial denture may have a metal framework with clasps that help connect your teeth to the partial denture. In some cases, we can add a precision attachment to allow the partial denture to attach to your natural teeth. Sometimes we utilize crowns on your natural teeth to improve the fit of the partial denture.
Implant Retained Denture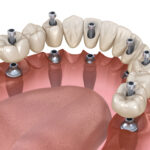 An implant retained denture is a full denture which is held into place by implants. Four to six implants are placed in one arch, the implants are then connected to attachments called abutments. The abutments are then screwed into the denture holding it into place. This keeps the denture from coming in and out and it is held in.
Implant Supported Denture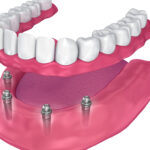 An implant supported denture is a full denture which is supported by implants and SNAPS in and out of the mouth. The denture is held into the mouth using rubber cups which are attached to the implants allowing the denture to stay in place. It is recommended to take your implant supported denture out at night when you are sleeping.
Single Tooth Implant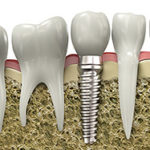 An implant is a synthetic tooth root in the shape of a post that is surgically placed into the jawbone. The "root" is usually made of titanium: the same material used in many replacement hips and knees, and a metal that is well-suited to pairing with human bone. A replacement tooth is then affixed to the post. The tooth can be either permanently attached or removable. Permanent teeth are more stable and feel more like natural teeth.
Implant Bridge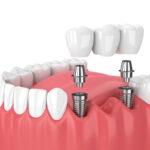 A dental bridge is a tooth replacement option, where a false tooth is held into place by the teeth around the missing tooth. If you are missing multiple teeth we may instead use multiple implants to provide better support. This implant bridge is a tooth replacement option, where two implants retain a false tooth. We often will chose to do an implant bridge to save money on number of implants placed and to allow a patient to have a retained prosthesis instead of a removable one.
We are A Full-Service Dental Practice